Preregistration has closed and we are preparing for tomorrows event!
It's not to late to join us! Please head on in by 9:00am, onsite registration is the same price and still includes a t-shirt and a yummy lunch!
It's time for the 2nd Annual Scott Santana Live On, Drive On Memorial Car Show. It will be BIGGER and BETTER this year! Come and see Hot Rods ,Show Boats, Hot Bikes (including Scott's own 1969 Triumph)
There will be two exotic Super Cars there from
McLaren San Francisco
as well as a Aston Martin and a Bentley from
Los Gatos Luxory Cars!
Plan for a fun and relaxing day!
Presented by:
Scott Santana Memorial Foundation: Sidney "Scott" was a local car guy who grew up with gear oil in his veins as part of his pedigree! With influence from his dad, Rich Santana; Godfather, Sid Chavers; and countless car guys, his life revolved around wheels. Scott built and drove a 1973 240z, 1969 Triumph Trophy and loved almost all things with motors and wheels. He died in 2011 and became a hero to over 50 through the gift of organ and tissue donation. Join us as we raise money for Scott's scholarship and to raise awareness about the need for organ and tissue donation through the "Live On, Drive On!" campaign. There will be a $35 registration fee, each entry will receive an event T-Shirt.
Register your Hot Rod for the Show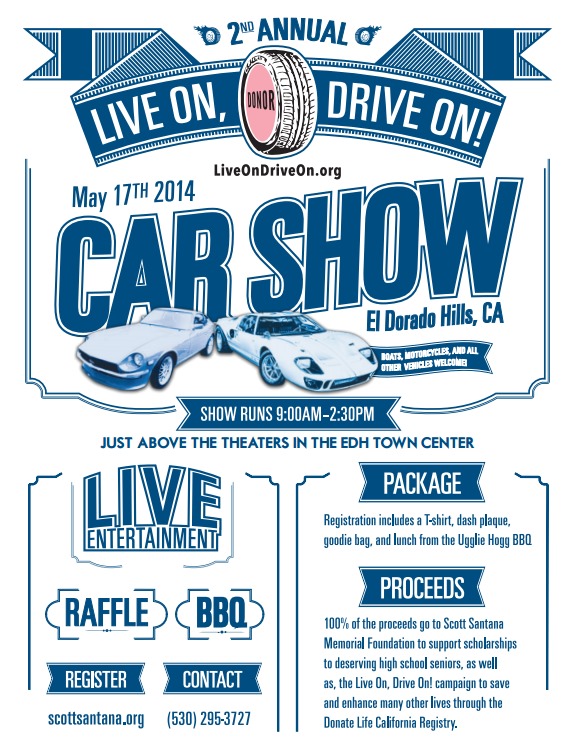 May 17, 2014 at Lakehills Church, 7000 Rossmore Dr., El Dorado Hills, CA.
Above Regal Theaters in the El Dorado Town Center
If you know others who would like to join us, onsite registration is $40 and are welcomed!
Spectators are FREE!!!!!

Things to do:


BBQ and Chili by The Ugly Hog
Artists
Jewelry
Pottery
Donate Life: Learn about the importance of joining the Donate Life California Registry
Memory Garden: Write a note to someone you miss, place it in a balloon and add it to the Memory Garden. At 2:30 pm we will let all the balloons go!
Face Painting
T-shirt Sales (If you are preregistered you will receive a t-shirt)
Raffle
Auction
Shopping at El Dorado Town Center (just below the car show)-including shuttle service
Awards: Beginning at 3pm
More announcements to follow...
Things to remember:
We want you to be comfortable so please bring your own chairs, umbrella's or even pop up tents if you would like to put them on the large grassy area to enjoy the music!
Details about arriving:
Boats:
Please arrive by 7:00 am to allow time to arrange your boat, drop the trailer and park your truck. Please don't forget to bring your tire chalks!!!
Cars:
Please arrive between 7:30 am to 9:00 am - if you have a trailer please unload in marked trailer parking area (Target) and drive up to the church.
Spectators:
Please park in the marked spectator lots and then you can catch the shuttle up the hill.
Shuttle:
We will one running up and down the hill from the EDH Town Center parking lots from 8:00 am to 4:00 pm
Would you like to participate as a vendor?
Booth Cost: Nothing! If you would like to donate to our raffle that would be great but if not we would be happy just to have you there.
Expected audience: Over 150 vehicles and over 500 spectators.
We will be giving each vendor raffle tickets to hand out to the people who visit your booth to help bring them out to you!
Vendors must be set up prior to 8:15 am. Show is from9:00am to 2:00pm
You will be on grass but in the sun so make sure to bring a shade tent (with weights or stakes). We will provide you with a table and two chairs.
Register as a vendor today!
Do you have questions? Email us at info@scottsantana.org
Or call Rich at 530-295-3727



Register at Donate Life California as an organ and tissue donor.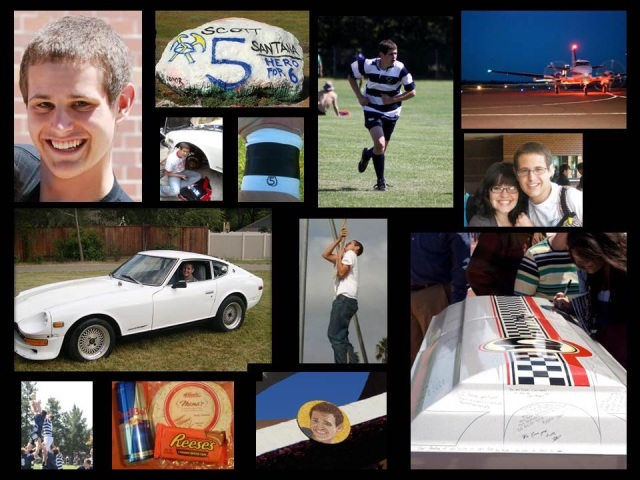 Sidney "Scott" Santana
August 24, 1993-May 20, 2011
It is often said that the dates on either end are not important, it is the dash in the middle. This could not be more true than it is in Scott's life. Scott made an exceptional impression on almost everyone he met. He loved to give charitably, play hard and care deeply. It is because of these things that it was no surprise to his family and community when Scott chose to donate his organs and tissue after death by checking "yes" on his driver's license application. He saved the lives of 6 people through the gift of his heart, lungs, kidneys, pancreas and liver. He gave sight to two through the gift of his corneas and he is still helping others through tissue donation.
Scott died on May 20, 2011 following a car accident on May 17, 2011 on his way home from school at Union Mine High School. Scott was not speeding, texting or driving erratically, he simply had an accident. At Union Mine, Scott had many friends and was loved by many-his teammates from his football team gathered the students and community for a candlelight vigil during his hospital stay. His rugby teammates gathered to remember his passion for the game and served as pall bears for his service. Hundreds of friends came to say goodbye to Scott and his family will be forever grateful to Marshall Hospital, El Dorado County Fire and CDF Fire for the exceptional care he received. Scott's Raley's family had a huge impact on Scott but also his family from the care they gave to them after his accident. Scott's memorial service on the football field at Union Mine High School was a touching tribute to his deep faith in Christ and love of music.
In keeping with Scott's generous nature, Scott's family became Donate Life Ambassadors shortly after Scott's death and donation. They feel the need to bring Scott's story to anyone, explaining that the choice of organ and tissue donation can be a healing part of the grief journey. Scott's story has been heard at high schools, colleges, community fairs, the California State Capitol and the Placerville DMV. He was also featured, along with 71 other Heros, on the Donate Life Float in the 2013 Rose Parade. Their message is, "On the day we got the worst news of our life, six other families got the best news of theirs."
Also, in keeping with Scott's generosity, his family is forming the Scott Santana Memorial Foundation and will continue to award scholarships in Scott's memory to students who demonstrate outstanding sportsmanship both on and off the field. In addition, we will be supporting Donate Life activities through Sierra Donor Services and the "Live On, Drive On!" Campaign.

Scott's story was shared in the new "Donate Life California" handout. Our hero continues to touch people with his story.